Promotions
August 22nd Is National Bring Your Cat to the Vet Day​!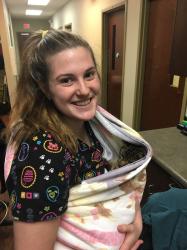 Understanding your Cat's Behavior:
• Cats are most comfortable with the familiar, and need time to adjust to the unfamiliar. The visit to the veterinarian is often difficult because the carrier, car, and the veterinary hospital are usually unfamiliar. Respect your cat's need for time to become familiar with new situations, people and places.
• Stay calm. Cats can sense our anxiety or frustrations, which may cause them to become fearful or anxious.
• Cats do not learn from punishment or force. Give rewards to encourage positive behavior. For example, if your cat is sitting calmly in or near a carrier, give a treat. Likewise, rewards can be given to help your cat become familiar with the type of handling that may be encountered at the veterinarian (e.g., handling paws, ears and mouth).
--
courtesy CEVA Animal Health Inc.