Promotions
SCAH Only Uses PUREVAX® Non-Adjuvanted FVRCP, Leukemia & Feline Rabies Vaccines
Cats are exposed to many diseases during their lifetime, some of which may be caused by bacteria, viruses, or parasites. The doctors at Swift Creek Animal Hospital will advise you of the diseases your cat may be at risk of contracting, and which vaccines are appropriate to ensure your cat's good health.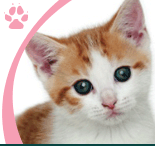 Swift Creek Animal Hospital only uses PUREVAX® non-adjuvanted FVRCP, leukemia and feline rabies vaccines which are formulated without adjuvants, making them much less likely to cause vaccine-related tumors.
Please contact Swift Creek Animal Hospital today at (804) 744-7222 or via our Vet2Pet Mobile Rewards App "SCAH1986" to request your cat's vital wellness exam and discuss vaccines.