Promotions
Bravecto Topical for Cats Now Available At Swift Creek Animal Hospital!
Are fleas and ticks bothering your cat (and you)?
Whether your cat goes outdoors or stays inside, continuous flea and tick protection is important. With Bravecto, you can give your cat 12 weeks of protection against fleas and ticks with a single treatment. This makes it easy for you to provide long-lasting coverage to your cat, without having to worry about giving frequent treatments.
Bravecto is FDA approved and vet recommended, so you can apply Bravecto to your cat with confidence. Bravecto Topical for Cats is proven safe for cats weighing at least 2.6 lb. and for kittens aged 6 months or older.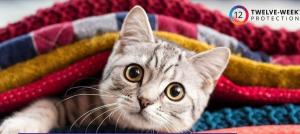 Contact the team at Swift Creek Animal Hospital today at (804) 744-7222 or via our Vet2Pet Mobile Rewards App "SCAH1986" to ask about Bravecto for your cat.