Promotions
Purina® Pro Plan® Vet Direct Offers Free Home Delivery! Our Clinic ID Is L8ZTH.
We are excited to announce a
new home delivery service
called Purina® Pro Plan® Vet Direct! Look for this link on the home page of our website.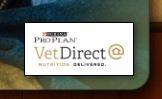 If you have any questions, please ask our team members for more information the next time you visit us or call us at (804) 744-7222.
Purina® Pro Plan® VetDirect is a risk-free and simple way to have your pets' food delivered right to your door! Enroll and shop online in a few easy steps, and take advantage of convenient auto replenishment and
FREE SHIPPING!
Visit
www.purinaproplandirect.com
and enter Clinic ID L8ZTH