Promotions
Enter To Win Amazon Echo Dot With Each Bravecto Purchase 8/1/17 through 10/30/17!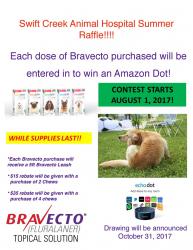 Enter to win a free Echo Dot from Amazon with every purchase of BRAVECTO® August 1, 2017 through October 30, 2017! Winner's name will be drawn October 31, 2017!
With the BRAVECTO® Chew, dogs get 12 weeks of flea and tick protection with a single treatment. That's nearly 3x longer than monthly treatments. This makes it easy for you to provide long-lasting coverage to your dog, without having to worry about remembering frequent treatments. With just one chew, your dog is all taken care of, so you can enjoy all of the activities you love to do together, without any worry for your dog.
BRAVECTO® is only available through your veterinarian so please contact our team today at (804) 744-7222 to find out if BRAVECTO® is the best option for your dog. Ask for your free BRAVECTO® leash with each purchase too!