Promotions
Welcome Dr. Joe O'Hara!
FOR IMMEDIATE RELEASE
Midlothian, VA, June 5, 2017
Swift Creek Animal Hospital & Pet Resort is delighted to announce that Dr. Joe O'Hara joins our practice today, June 5, 2017.
"We are extremely excited to have Dr. O'Hara join our team and know he will play an integral role in continuing our commitment to excellent patient and client care."
--Dr. Craig Nofzinger, Owner
Dr. O'Hara recently graduated from Virginia-Maryland College of Veterinary Medicine in Blacksburg, Virginia. During his undergrad studies at Xavier University, he was a member of the swim team and worked as a technician in a five doctor practice. While in his clinical year of vet school, Dr. O'Hara experienced dermatology, allergy care and small and large animal care through a variety of externships. In addition, Dr. O'Hara brings experience with training tools and behavior techniques acquired at a working dog center.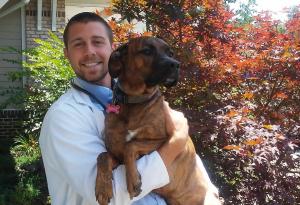 Dr. O'Hara will be available for appointments on Mondays, Wednesday afternoons, Thursdays, Fridays and Saturdays (on a rotating basis starting July 1, 2017). Dr. O'Hara joins Drs. Craig Nofzinger, Valerie Lucas, Carolyn Powell and Sarah Clarke as the newest member of our team of veterinarians.
Swift Creek Animal Hospital has been serving Midlothian area pets and their parents since 1986. In 2008 we moved to Colony Crossing, one mile south of St. Francis at the end of the Powhite Parkway. Since our beginning, our practice has been built on personal care, open communication and the highest-quality medicine. While our hospital has expanded, we continue to provide the same warm family atmosphere we are known for. We look forward to serving you and your pets.