Promotions
Be Prepared Pet Owners!
Unexpected disasters of all types can happen anytime. Let's be prepared pet owners!
Here are some valuable tips from FEMA to help you and your family, including your pets, be as prepared as possible:
Make A Pet Emergency Plan
ID your pet.
Make sure your pet's tags are up-to-date and securely fastened to your pet's collar.
Write your pet's name and your name and contact information INSIDE your pet's collar in permanent marker in case tags are lost.
Microchip your pets.
Make sure you have a current photo of you and your pets for identification purposes.
Identify shelters.
---For public health reasons, many emergency shelters cannot accept pets.
---Keep Swift Creek Pet Resort's number, (804) 665-2566, and your local animal shelter's number in your list of emergency numbers.
Make sure you have a secure pet carrier, leash or harness for your pet so that if he panics, he can't escape.
Make a pet emergency kit including:
Pet food
Bottled water
Medications
Veterinary records
Cat litter/pan
Manual can opener
Food dishes
First aid kit and other supplies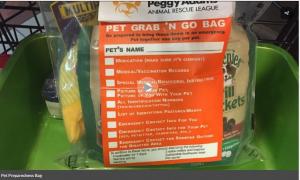 Please contact the doctors and team members at Swift Creek Animal Hospital at (804) 744-7222 for more helpful information. Ask for a copy of ready.gov's helpful brochure at your next visit.